"Need a brilliant mix for your home studio recordings?
Chris brings the professional edge to sharpen your sound."

HISTORY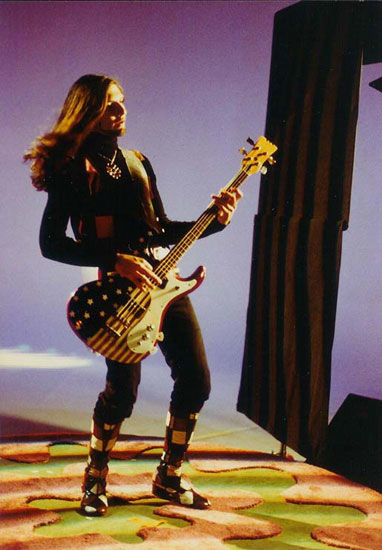 Chris' professional musical career began as the bassist for the early '90s pop rock band: Jellyfish (Virgin/ Charisma). While in Jellyfish, Chris made three videos for MTV, and played hundreds of shows across the United States and Europe. Highlights included touring with The Black Crowes, opening for INXS at Wembley Stadium, performing nightly on stage with his brother Roger Joseph Manning Jr. (Beck, Air, Johnny Cash, Blink 182)
… and eating strawberry cheese cake with Ringo Starr.
It was Albhy Galuten (Producer: Bee Gees, Barbara Streisand, Eric Clapton) who inspired a new passion in Chris with the world of recording studios and record making.  When Chris left Jellyfish, he signed on as an assistant engineer at the prestigious Plant Studios in Sausalito, Ca. During that time, he worked under producers such as Steve Lillywhite, Bob Rock and Jerry Harrison. Chris engineered on "Supernatural", the 26 multi-platinum, 8 grammy award winning album by Carlos Santana. He also worked on records for Metallica, Third Eye Blind, Guster, Joe Satriani and others.
In 2000 Chris built his own studio and recorded international artists Eric Martin, Mr. Big & Jesse Colin Young .  He also produced recordings for Bay Area favorites, 20 Minute Loop, Tommy Castro, Box Set & Thriving Ivory.   In 2010, Chris travelled to Italy to record the #1 selling 8x platinum album Arrivaderci Mostro, for Italian artist Luciano Ligabue.
Chris has also studied with: Michael James, Neill King, Jack Blades, KC Porter, Ant Banks, Jack Joseph Puig, Mike Fraser, Arne Frager, Glen Kolotkin, Thom Wilson, Jason Carmer and Eric Thorngren.